UPDATE 11/02/2020
On October 28, 2020, the President of the Republic decided to take measures to reduce contact and travel throughout the country to a minimum by establishing confinement from October 30 to December 1 minimum.
Permanent certificates are online for commuting to work and for bringing children to school.
For other reasons, individual certificates will have to be completed for each trip
link to the certificates in PDF DOCX and TXT format
UPDATE on 26/09: Wearing a mask is mandatory from this day in the following places:
Siam bottom ( "Chateau" station area)
Commercial port (Quai Tabarly, and Quai de la Douane)
Near university sites and higher education insttutions
Near public and private high schools and colleges
International travel
While the borders with the European Union remain open, with some exceptions, the external borders are closed.
SITUATION ON JULY 1
Reopening of the borders of the European Union on July 1st. The EU will update the list of countries authorized to cross its borders every two weeks. Here is the current list:
Algeria, Australia, Canada, Georgia, Japan, Montenegro, Morocco, New Zealand, Rwanda, Serbia, South Korea, Thailand, Tunisia, Uruguay, to which China would be added, on condition of reciprocity. Travelers from Andorra, Monaco, the Vatican and San Marino are also admitted.
Note: From July 1, 2020, international students will be allowed, regardless of their country of origin, to come to France.
Their visa applications will be given priority. Consult the press release on this subject
Are you going to travel?
Specific restrictions (pre-test, fortnight) may be imposed in certain countries.
Use the European Commission's Re-open EU tool for your trips to Europe and the French Ministry of Foreign Affairs website for your trips outside Europe.
Situation on June 2nd, 2020:
Second phase of France's lockdown exit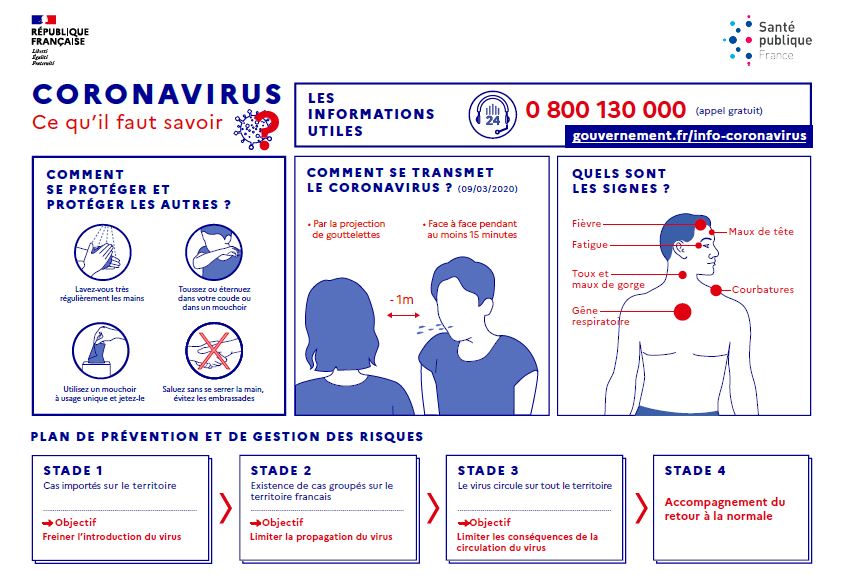 Reminder of the main measures valid from May 11, 2020:
The certificate of derogatory movement is no longer required to leave your home. The exit time is no longer limited, however gatherings of more than 10 people are prohibited.

Wearing a mask is highly recommended in public spaces and compulsory in public transport (bus, metro, tram, train, etc.).

Travel is authorized within a 100 km radius of the home or also within the same department without limitation of distance.

Beyond 100 km, a special authorization is required based on a compelling professional or family reason.
The new form provides for seven possible situations allowing journeys outside your home département of more than 100 km as the crow flies.
They include trips
from home to work and other work-related trips that cannot be postponed;
from home to an educational establishment by a student and / or a person accompanying the student, and travel necessary for exams and competitions;

for specialised medical care which cannot be carried out remotely by telemedicine and which cannot be provided closer to home
for an imperative family reason, such as helping vulnerable people or caring for children;
required by a court or the police to visit a police or other professional service;

resulting from a summons to appear in court;
Similar to the previous form, you need to fill in your personal details, then add the name of the place you are visiting, then tick one of the accepted reasons for travel.
The form is for journeys which are out of your département of residence and more than 100km - you can travel 100km within your own département.
While travelling with the form, you need proof of the address you are staying at as well as a proof of ID.
You do not need a travel form for journeys in your département of residence or for journeys shorter than 100 km.
Download the form (French version)
European and international borders remain closed for the time being.

Travel to mainland France or to French overseas territories

In the context of the implementation of the state of health emergency in France, access restrictions to Mainland France and to French Overseas territories are in effect. Every traveler is requested, from 8 April 2020, 12 AM, to fill out and carry one of the following travel certificates according to his situation :
for a trip from mainland France to French overseas territories
for an international travel from abroad to mainland France
The document is to be presented to transportation companies before boarding, as well as to border control authorities.
for an international travel from abroad to French overseas territories
CMI Brest is still closed to the public until further notice. We remain at your disposal by email and for the renewal of your residence permits, we ask you to regularly look at the "RCS Jonction" section on our home page and invite you to participate to our weekly webinars.
Stores and shopping centers are opening again little by little (except restrictions in Ile-de-France): it is strongly recommended to wear a mask and imperative to respect the safety distance between each customer.

Places of worship are open from May 11, but ceremonies prohibited.

Practicing sport outside is authorized.

Libraries and media libraries, small museums are open. Other cultural places (large museums, cinemas, theaters, opera houses, etc.) remain closed.

The parks and gardens are open in the green departments.

Bars, cafes and restaurants remain closed for the time being.
The nurseries open their doors from Monday 11 May but only welcome 10 children per group.

The opening of nursery and primary schools starts from May 11 gradually, on the basis of family volunteering. Each academy defines its rules according to the precise local situation.

Middle schools will be open from May 18 in the green zones and from June 2 in the red zones.

High schools and universities will remain closed until September 2020.
As far as possible, remote work from home is recommended until further notice.
Ask your host establishment and your laboratory manager for more information.
The most common symptoms of the disease caused by Covid-19 are:
fever above 38 ° C, cough, unusual tiredness or myalgia (muscle pain), dyspnea ( breathing difficulty).
There are simple steps to protect your health and that of those around you.
The virus does not circulate alone, it is humans who carry the virus, so the following measures, called "barrier gestures", are common sense measures:
Barrier gestures:
wash your hands regularly with soap or an alcoholic gel;

do not shake hands and avoid kissing;

cough or sneeze into your elbow;

use disposable tissues.

Stay at home, avoid contact with others. Some people transmit the virus without feeling the symptoms.
Official recommendations
If you think you're sick, avoid public places. Do not visit frail people (elderly or sick). Avoid leaving your home. Follow the barrier measures (hand washing, mask). Monitor your symptoms, changes in body temperature and seek medical advice by phone or teleconsultation, DO NOT GO to your GP's or to the hospital;
In case of breathing difficulties:
Contact the SAMU immediately (French emergency services – dial 15)
Do not go directly to your GP's or to the hospital.
Useful links:
ANY QUESTIONS ABOUT COVID 19 ?
https://maladiecoronavirus.fr/
Free number 0 800 130 000 24h A DAY, 7 DAYS A WEEK